Learning disabilities SPIRE data project
---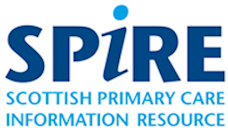 Aim
The central purpose of this project is to develop a bespoke extraction of learning disability data from GP systems. The learning disabilities SPIRE project will support the delivery of a central aim of Scottish Government learning disabilities policy which is to increase understanding the health and health needs of this population in order to improve policy and practice.
What we will do
The project will be delivered through collaboration between Public Health Intelligence (PHI) and the Scottish Learning Disabilities Observatory (SLDO). The joint working arrangements are described in detail in a Memorandum of Understanding signed by representatives of both organisations.
The work will be led by the Learning Disabilities Data Project Advisory Group. Membership is made up of clinicians, service managers, policy makers and commissioners from general practice, community learning disabilities teams, the Scottish Government and health boards. This group will lead on the design of this data extraction.
How we will do it
Analysts from the Scottish Learning Disabilities Observatory, the Robertson Centre for Biostatistics and Public Health Intelligence will analyse and present findings from this work.
For more information about this project, please contact Angela Henderson.
For more information about the Scottish primary Care Information Resource visit their website: www.spire.scot.nhs.uk
Page reviewed on 3 Sept 2020
---