---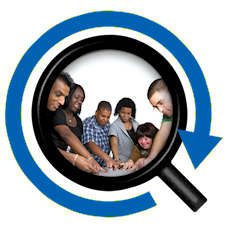 About the Research Voices project
Background
People with learning disabilities experience major health inequalities and face barriers to engagement in research that seeks to identify, influence and address their health needs. 
Project aims
The project will enable deliberation on learning disabilities health research at conceptual, ethical and practical levels and evaluate the viability of an adapted citizens' jury method to:
Provide insight into the views of people with learning disabilities on health research
Challenge attitudinal barriers to involvement of people with learning disabilities in research as participants, subjects and collaborators
Challenge structural barriers that limit opportunities for inclusion in research
Develop, evaluate and share project resources
Generate recommendations supporting inclusive public engagement in health research.
Approach
The Citizens' Jury method engages members of the public/community in issues of importance enabling them to make informed decisions and produce recommendations through deliberation. We propose to adapt this method by using inclusive communications tools and approaches to enable deliberative engagement with a representative group of people with learning disabilities.
For more information please get in touch
---