---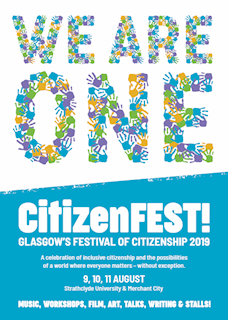 CitizenFEST
You may have heard about the fantastic citizenship festival that will be taking place in and around Glasgow's Merchant City area on 9th & 10th August 2019.  The 'We are One' Festival is a Citizen Network event supported and sponsored by ENABLE Scotland, In Control Scotland, Radical Visions, Leap Sports, Unity Trust, VIAS, Partners for Inclusion, Alzheimer Scotland, Key, Neighbourhood Networks, The Wheatley Group, Alliance Scotland, C-Change Scotland and many others.  With many delegates to the world congress of IASSIDD http://www.iassidd2019.com/ already in Glasgow that week, the Festival will provide an international opportunity for serious fun and an exchange of ideas, structured around Citizen Network's seven keys to citizenship – Love, Life, Home, Freedom, Help, Purpose and Money - the very basic things we all need to play our full part within society.  The Festival will kick-off on the evening of Friday 9th August with a "Stay Up Late" gig taking place in the Barony Bar at the main Festival venue, the Student Union at the University of Strathclyde.  This party atmosphere will provide an effective curtain-raiser for the Festival.  On Saturday 10th August there will be a full programme of events from morning until early evening.  The Strathclyde Student Union will again provide the main venue, but several additional venues will be in use in the "Merchant City", including Spoon Café, The Tron Theatre, The Clutha, Mono Café Bar. There will be a varied mixture of music, dance, drama, poetry, debate, discussion, and the testing out of new ideas.  There is an inclusive invitation to all who are interested in celebrating equality amid diversity, and entry to the Festival is free of charge.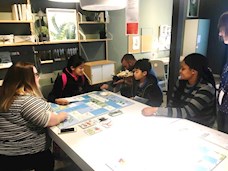 Scottish Learning Disabilities Observatory at the ESRC Festival of Social Science 2017
On the 4th of November 2017, researchers (Laura, Phillippa, Ewelina and Marian) from the Scottish Learning Disabilities Observatory set off to IKEA in Glasgow to take part in the ESRC 'Festival of Social Science'. The purpose of the festival was to engage with members of the public and especially young people, about the kind of social science research that takes place at the University of Glasgow.
The team at the Observatory were really pleased to be able to take part. We wanted to develop a way of communicating our research to young people in particular and decided that a table-top game would be an exciting way to showcase what we do. We used this method to present practical examples of barriers faced by people with learning disabilities in achieving equality in health and other areas of everyday life.
We developed a game that involved players going progressing round a board that represents all of the key aspects of a person's life: going to school, going to university, getting married and having children for example. We started to think how these things can be made harder for people with learning disabilities so we came up with 'The journey through life with a learning disability'!
Players could go round the board and encounter the positive and negative things that people with learning disabilities experience every day. Depending on what you land on or the kind of card you pick, you can either progress through the game or go backwards. The cards and the 'life encounters' on the game were based on the research findings that we have collected at the Scottish Learning Disabilities Observatory. For example, a player could pick up a health card which says:
You need see your GP but they don't have accessible information for you, move back 2 spaces
OR
You make an appointment with your GP and they give you a longer appointment to make it more accessible for you, move forward 3 spaces
The cards also covered topics such as education, employment, family life and social life. We wanted to make sure that the game demonstrated the impact of social, economic and health barriers on lives of people with learning disabilities in Scotland.
Throughout the day lots of IKEA customers took part in our game. Many of our participants were young children and we were happy to see that they enjoyed the game but also understood the information we were trying to share. Adults were also keen to get involved and were interested in learning about the inequalities that people with learning disabilities face.       
The event was a great success and everyone who took part was pleased to learn more about what we do at the Observatory.
To find out more about our projects, take a look at our projects page here.
You can watch a video about the Festival of Social Sciences 2017 here: https://www.youtube.com/watch?v=gXTYydcEExE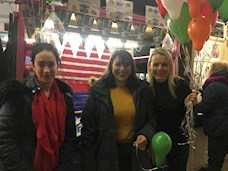 The Scottish Learning Disabilities Observatory 'roll up for the social science market' at The Barras in Glasgow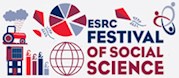 On the 12th of November 2016, the Scottish Learning Disabilities Observatory participated in a unique public engagement event at The Barras, a major indoor and street market in Glasgow.
The Barras event was attended by a range of researchers from Glasgow University who were, for one day, 'trading' from market stalls to highlight their research to the public in innovative ways. 
The challenge for the Scottish Learning Disabilities Observatory team, all inexperienced stall holders, was to engage with a different audience by creating innovative ways to encourage people to come and talk about the work of the Observatory. Our task was to raise awareness among the public about health inequalities experienced by people with learning disabilities and to start conversations about what participants think about these issues. 
Our activities were fun, but had a serious message. We wanted people to think about the inequalities that people with learning disabilities in Glasgow experience. 
We decided on the theme of a fun fair and had activities like 'hook the duck' where participants were asked to catch a plastic duck from water with a fishing rod – with each duck there was a question (we had prizes too!). Lots of people took the challenge and we found that our questions made people think. And once we had people 'hooked' this led to some really constructive conversations about the issues that the Scottish Learning Disabilities Observatory is trying to tackle through research. 
This was a really positive experience for the Scottish Learning Disabilities Observatory team. The activities developed led to a great deal of interest from the public, including conversations about what participants knew about learning disabilities, perceptions of learning disabilities and some of the challenges people with learning disabilities experience in relation to their health and other parts of their lives. 
At the Scottish Learning Disabilities Observatory, we are always looking for innovative ways to engage with the public about our research and are excited about taking part in future events of this kind to build on the success of this event. 
The Barras event was part of the ESRC 'Festival of Social Science', a week-long celebration (5th-12th November) of the social sciences, with over 270 free topical events that took place across the UK. This included debates, conferences, workshops, seminars, exhibitions and film screenings on subjects as diverse as politics, pirates and Pokémon. Activities were aimed at a wide range of audiences from schoolchildren to academics, third sector to policymakers.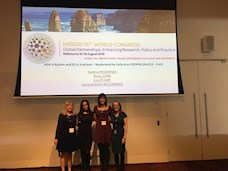 ---